Do you want your website to organically rank higher in Search Engine Results Pages (SERPs)? Then you need to make sure you're ticking all the boxes when it comes to SEO. SEO, or Search Engine Optimisation, is the process of optimising your website so that it's user and Google-friendly.
SEO can be split into three main areas. They are:
On-page SEO. This refers to on-page elements such as keywords, titles and meta descriptions, which make it easier for Google to crawl and index your page.
Off-page SEO. This concerns external linking and sharing your content on socials.
Technical SEO. This deals with anything that isn't related to on or off-page SEO, including site speed, mobile friendliness and site architecture.
In this in-depth guide, I'm going to focus mainly on on-page SEO (although they all overlap), why it's important and the elements you should be thinking about when it comes to your website. Mastering SEO or working with an SEO professional can help you see real results and gain more loyal customers.
Why Is On-Page SEO Important?
On-page SEO is essential for both human eyes and Google bots. It shows how you're offering up valuable information that's unique and relevant to those searching for answers. Good on-page SEO also helps visitors navigate your site, process the information you're offering, understand the content and identify whether it's relevant to a search query. It improves your website's visibility and rankings.
It's not enough to write killer content and just press 'post'. You need to optimise various areas of your content so that it signals to Google that it's valuable, relevant and worth appearing in SERPs. It's also an area of SEO that you (or an SEO expert) can have total control over. Whilst this means you're in command, it also means you need to be doing it correctly.
Here are some of the basics to mastering on-page SEO.
Basics of Good On-Page SEO
#1 Keyword Research
Anyone who has ever looked up what SEO is will have come across the term keyword research. In short, keyword research is finding important words that your content should target. Carrying out keyword research allows you to gain important insight into what your target audience is searching for and gaps in the current content on the internet.
You can then write keyword-optimised content to fill those gaps, answer the questions your audience is asking and gain new traffic and customers.
But how do you do quality keyword research?
A good start is to carry out competitor analysis. By using tools such as Ahrefs, you can focus in on what companies similar to yours are doing, the keywords they are targeting and what's going well. You can then further analyse a specific keyword based on these three factors:
Intent
Search volume
Keyword difficulty
Let's look at these in a little more detail.
Intent
Not everyone looking for answers on the internet is searching for the same type of content. If, for example, you write 'best face creams' into your search engine, you're going to get a lot of comparison articles and product pages from larger organisations. Your search query has indicated to Google that you're looking to buy and you're researching the best cream for you. Google therefore offers you results with products that you could buy.
If, however, you type in 'types of roses', the results will be informational articles explaining why some roses climb and some don't smell.  Your search query has indicated that you want to know more about roses and not necessarily buy one right away (although you may at some point in the future).
It's really important to understand the searcher's intent behind a keyword so that you can provide the correct result.
Search Volume
When researching keywords, one of the most important parts is making sure they actually exist and that people are really using them in their search queries. In other words, the search volume.
If a keyword only has 10 monthly searches, it's not really worth your time to write optimised content for that keyword. You'll be putting in a lot of effort for something no one is actually looking for.
Depending on your company and your goals, you want to aim for keywords that have a high search volume as this means you're likely to get more traffic and sales through your website.
But, there's a catch…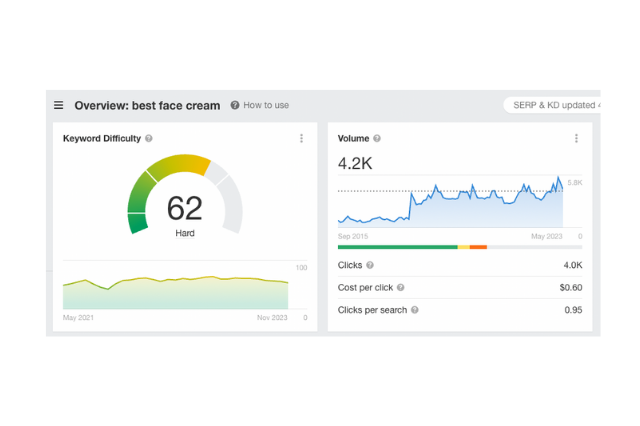 Keyword Difficulty
Just because a keyword has a high search volume doesn't mean it's the best one for you to target. It could have a high keyword difficulty score which means it would be very hard for your page to rank in the top search results. This again, would mean you're spending a lot of time creating content that's never going to be seen by your audience.
An SEO expert will research good keywords for your company and industry that have a lower keyword difficulty score and a high search volume. They may suggest long-tail keywords which can be easier to rank for, depending on your company's existing online presence.
#2 Title Tags
Page titles are one of the most important parts of on-page SEO. A well-written title tag shows visitors and search engines exactly what they can find on that page. It should correspond to the content, include the primary keyword (preferably towards the beginning) and entice people into wanting to read your content.
#3 Headers
Headers are a great way of organising your content and signalling to readers and search engines what's coming up in the next paragraph (for example, this paragraph is all about headers). You can use body tags such as <h1>, <h2> and <h3> to determine which parts of your content are the most important and which are less.
#4 Visual Content
It's never pleasant to read a blog that's purely text. Readers and Google get bored and end up leaving. Which, of course, you don't want. Pictures, videos, graphs and other visuals are a great way to keep engagement high and they also make texts easier to scan.
#5 Alt Tags
It's not quite enough to only have great visuals on your site. You need to also optimise them with alt tags. An effective alt tag tells Google what your image is about which allows Google to include it in its image-based search. Nowadays, Google offers nearly as many image-based search results as it does text ones, so it's a very important part of your site's on-page SEO.
#6 Boost Your Meta Description
Meta Descriptions are the descriptions below your page title that appear in SERPs. They're a great way to persuade searchers to click on your page which, in turn, helps your SEO.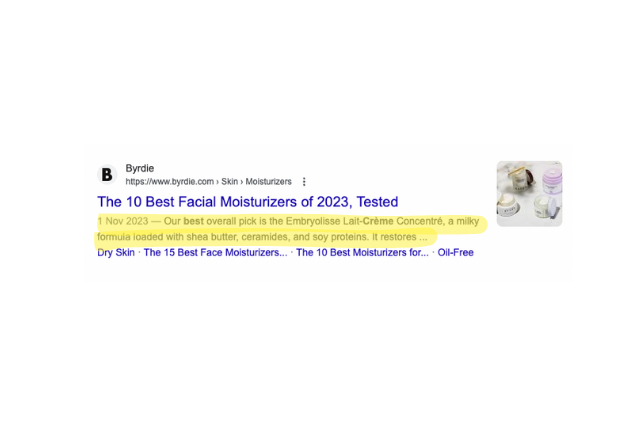 #7 Page URLs
Your page URL is a really important part of on-page, structural SEO. They help make site hierarchy easy for Google and users to understand and show exactly what visitors can expect in the content. You can include domains and subdomains to make it even clearer.
#8 URL Slug
A URL slug is the end part of your URL (after the /). It tells visitors and Google what the precise page or blog is about. It should be concise, clear and contain the primary keyword. Words are separated with a hyphen (-) and you should avoid including information that may change, for example, '10 best' or '2023'. You want your content to be relevant next year too, even if you added 5 extra products.
#9 Internal Linking
One of the ways that Google uses to determine how valuable your site is, is by measuring how long visitors stay. A great way to keep visitors on your website is by including internal hyperlinks to other, relevant and important pages. By including these, you're signalling to Google that you have more valuable content on your website and you're also encouraging visitors to read that too.
#10 Ensure Quality
This might sound like an obvious one, but it's so important and often not given the time it needs. Google really values quality content that's original, accurate and error-free. It needs to be easy to read (not too many long sentences or overuse of the passive) and should be concise yet informative.
Make sure you break up paragraphs so that the content is easier to scan and consider bolding the most important parts. Working with an SEO copywriter can be a great way of ensuring your site only has quality and relevant content.
Your content needs to be high-quality if it's going to compete on SERPs with other websites.
Conclusion
I know – that's a lot of information to take on in one go and these 10 points are not all there is to SEO. It can take time and effort to fully get your head around all the intricate parts of having a successful, valued and ranking website.
For many businesses, it's worth working with an SEO expert to really see results, it can save you a lot of time and money in the long run. If you'd like to know more about on-page SEO and the differences it can make to your business, get in contact today. With my help, we can come up with a content strategy that's fully optimised for on-page SEO.
GET IN TOUCH
Need a Freelance Copywriter
or SEO Content Manager?
Use the form on the right to
get a free quote!
The first step to having great content that ranks in SERPs is finding a copywriter that you trust. They need to develop your brand's voice and have experience in increasing a company's online presence.
Get in touch with me to see what great
content can do for your business.
Email: hello@charlotteluise.com